Spook Cave
13299 Spook Cave Road, McGregor, IA 52157
Coordinates: 43.03230812475587° N, -91.31003388145822° W
Spook Cave is located about seven miles west of McGregor in rural Clayton County, Iowa. It is privately owned and operated as a tourist attraction offering escorted boat rides into the cave. The cave was first discovered in 1953 and opened for business in 1955. Visitors enjoy a leisurely boat ride and learn about cave formations such as stalactites, stalagmites, limestone walls, sinkholes and mineral deposits. Water inside the cave ranges from two to six feet deep and the cave's perpetual temperature is 47 degrees.
Any fees?: Yes (Adults [13 and Older]: $14; Kids [4-12]: $10; Kids [3 and Under]: Free)
Dog Friendly?: Yes (must be leashed)
Website: www.spookcave.com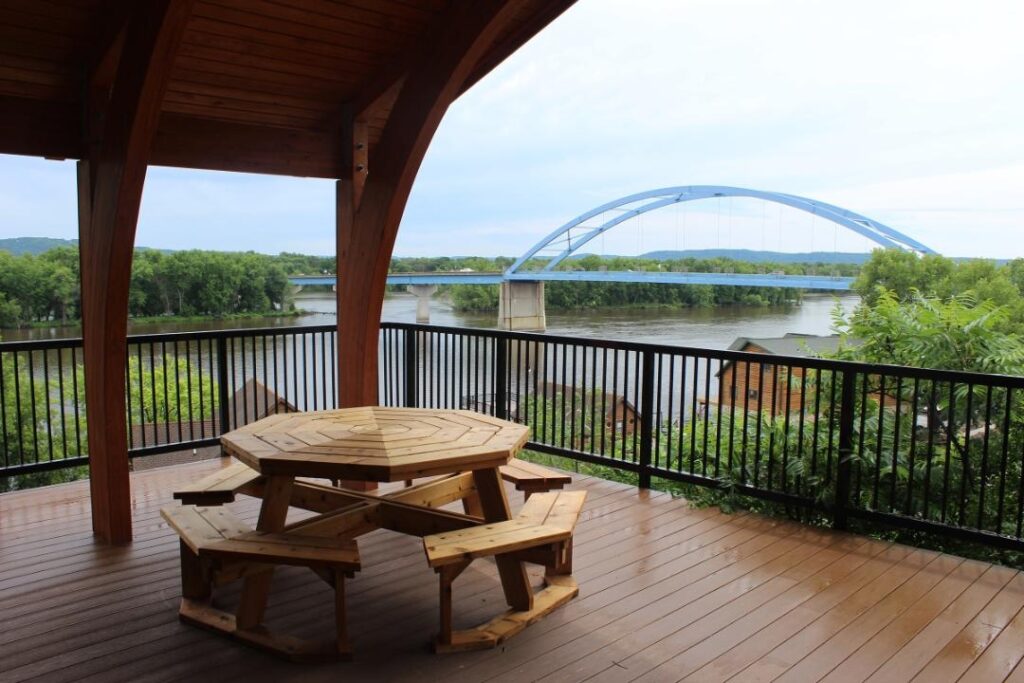 Marquette Scenic Overlook & Mississippi River Boardwalk
Coordinates: 43.04555437465682° N, -91.17772007729664° W
The Boardwalk is at the end of the main street through Marquette. The Overlook can be accessed by car at the end of a short street called Emma Big Bear Trail or through the Cobblestone Inn & Suites hotel.
Officially named the Marquette-Joliet Bridge Scenic Overlook, this scenic overlook is tucked into a limestone bluff above the community of Marquette. It provides an expansive view of the Upper Mississippi River Valley. Just below the overlook, at the bottom of the bluff, the Mississippi River Boardwalk in Marquette provides a different perspective of that same valley. Combined, these two attractions create a unique stop for visitors who want to better understand the Driftless Area, the Mississippi River and the bluffs.
Any fees?: No; it's free!
Dog Friendly?: Yes (must be leashed)
Website: https://www.marquetteiowa.city
https://www.traveliowa.com/trails/river-bluffs-scenic-byway/11/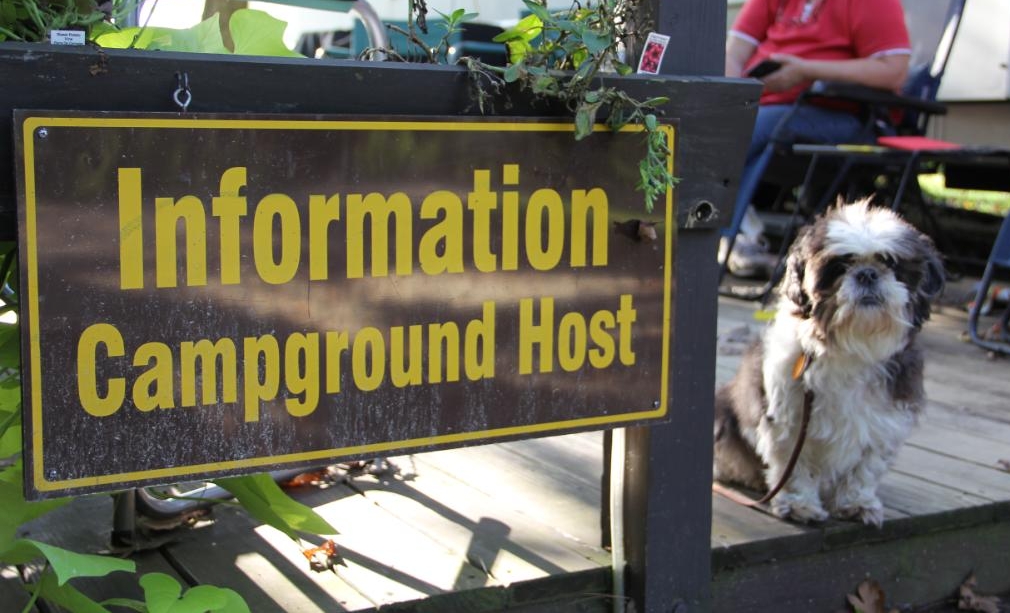 Pikes Peak State Park
32264 Pikes Peak Rd, McGregor, IA 52157
Coordinates: 43.00572529688673° N, -91.17414240973142° W
Famed for its majestic views of the Mississippi River, Pikes Peak State Park is one of Iowa's premier natural, cultural, and historic destinations. Located at the intersection of the Great River Road National Scenic Byway and the River Bluffs Scenic Byway (Iowa byway) it should come as no surprise that the views of the Mississippi River Valley are breathtaking! You can enjoy a spectacular view from park overlooks that are within sight of the parking area or venture further along boardwalks and walking paths. The park features 11 miles of relatively easy trails with various views of the scenic bluffs and valleys that are at the heart of the Driftless Area. One of the most popular trails is a half-mile trail along a boardwalk with numerous overlooks to the Bridal Veil Falls, a unique and quaint little waterfall that is wider than most. Like other karst waterfalls, the amount of water flowing over Bridal Veil Falls is directly related to rainfall and its impact on surface and groundwater flow. If you want a longer hike, consider the path to Point Ann overlooking the nearby town of McGregor or see where the Mississippi and Wisconsin Rivers meet atop a 500-foot bluff, along the way you can detour to see Native American Indian Mounds. The campground in this park is also located on the bluff and surrounded by hardwood forests that explode with color in the fall. Biking is allowed on designated trails and local cross country skiing clubs help maintain ski friendly trails when snow allows.
Any fees?: No (visitation); Yes (overnight camping)
Dog Friendly?: Yes (must be leashed)
Managed by: The Iowa Department of Natural Resources – Parks
Website: www.iowadnr.gov/Places-to-Go/State-Parks/Iowa-State-Parks/Pikes-Peak-State-Park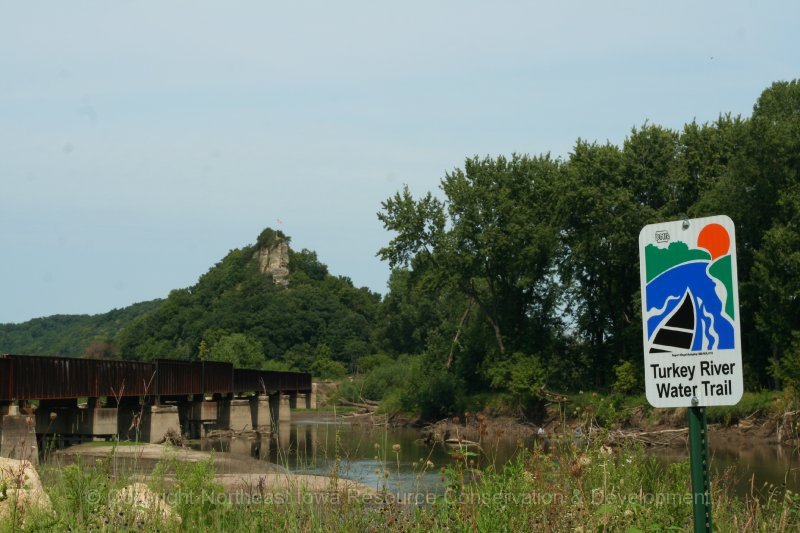 Turkey River Recreational Corridor
The Turkey River Recreational Corridor is unique in its geographic size and potential and is focused on a popular karst recreational river. Several coldwater streams flow into this river, including the stream formed by Big Springs, Iowa's largest spring and site of the Big Springs Iowa DNR Hatchery, which is located halfway between Elgin and Elkader along the river. The Corridor communities of Clermont, Elgin and Elkader in Fayette and Clayton Counties are nestled in the bluffs and valleys, and linked by the special, scenic and recreational beauty of the Turkey River, which is an Iowa Water Trail, as well as the various land trails that follow and cross the river. The combination of the beautiful karst landscape, frequent water access points and land trails make this Corridor a popular paddle-peddle destination where recreationists use their bikes, intertubes, kayaks and canoes to travel back and forth in their favorite sections. Visitors relish in the abundance of wooded hills, deep valleys,, streams and rivers, diverse wildlife and recreational opportunities. The Corridor has opportunities to explore whether you're walking, bicycle, horseback riding, fishing, camping or enjoying the water trail. In addition to these recreational opportunities, Clermont, Elgin and Elkader offer unique shopping and dining venues and various historic attractions. Two of the most notable historic opportunities are found at Gilbertson Conservation Education Area, which has multiple large historic collections, and Motor Mill Historic Park, which provides a dramatic evidence of how close the bedrock is to the surface in the Driftless Area and how that bedrock was used to construct impressive buildings.
Fees?: No Fee
Dog Friendly?: Yes
Managed by: Turkey River Recreational Corridor; Mallory Hanson, Director
Email: turkeyrivercorridor@gmail.com
Phone: 563-265-5248
Website: www.turkeyrivercorridor.com
Clayton County Trout Fishing
The coldwater springs and streams in the Driftless Area make trout fishing a popular pastime throughout the region. Each state manages their streams differently so check for information about limits, catch and release, and seasons within each state. There are 12 spring-fed creeks in Clayton County that comprise over 28 miles of fishable water, three of the state's 15 most-visited trout streams and one of only three trout rearing stations in Iowa. Located in the heart of Iowa's trout region, Clayton County's tranquil landscape attracts some of the most avid anglers in the state. Anglers are attracted to this area for its high concentration of prime trout waters, fish counts, trout stocking plans and year-round opportunities to catch brook, brown and rainbow trout. Iowa DNR efforts have also contributed to making this region of the state a world-class trout fishery. On average, the Iowa DNR stocks approximately 60,000 catchable trout into catchable stocked streams within Clayton County from April 1 – October 31. Over the years, brown trout natural reproduction has increased thereby reducing the number of fingerling brown trout stocked annually. Today, public streams stocked with fingerlings in Clayton County include Bear, Ensign Hollow, Mossy Glen, and South Cedar. Nearly all stocked fingerlings are brown trout, except for the occasional restoration stockings of brook trout. In addition, excess brood trout, or adult trout that typically measure between 14 and 24 inches in length and weigh anywhere from two to eight pounds, are released into streams each year. For more information about Iowa's stocking season, including a list of the streams that are scheduled for stocking, call the Big Spring Fish Hatchery at 563-245-2446, stocking hotline at 563-927-5736, Decorah Trout Hatchery at 563-382-8324, or visit the DNR website at www.iowadnr.gov.
Fees?: Day-use, No Fees, Fish License and Trout Stamp required for fishing
Dog Friendly?: Yes
Managed by: Iowa DNR Fisheries
Email: brian.malaise@dnr.iowa.gov
Phone: (563) 382-8324
Website: www.iowadnr.gov/Fishing/Where-to-Fish/Trout-Streams
https://northeastiowarcd.org/publications/
*For a pocket-sized guide to each of the 13 publicly accessible trout streams, please visit https://northeastiowarcd.org/product/trout-streams-of-clayton-county-map-fishing-guide/.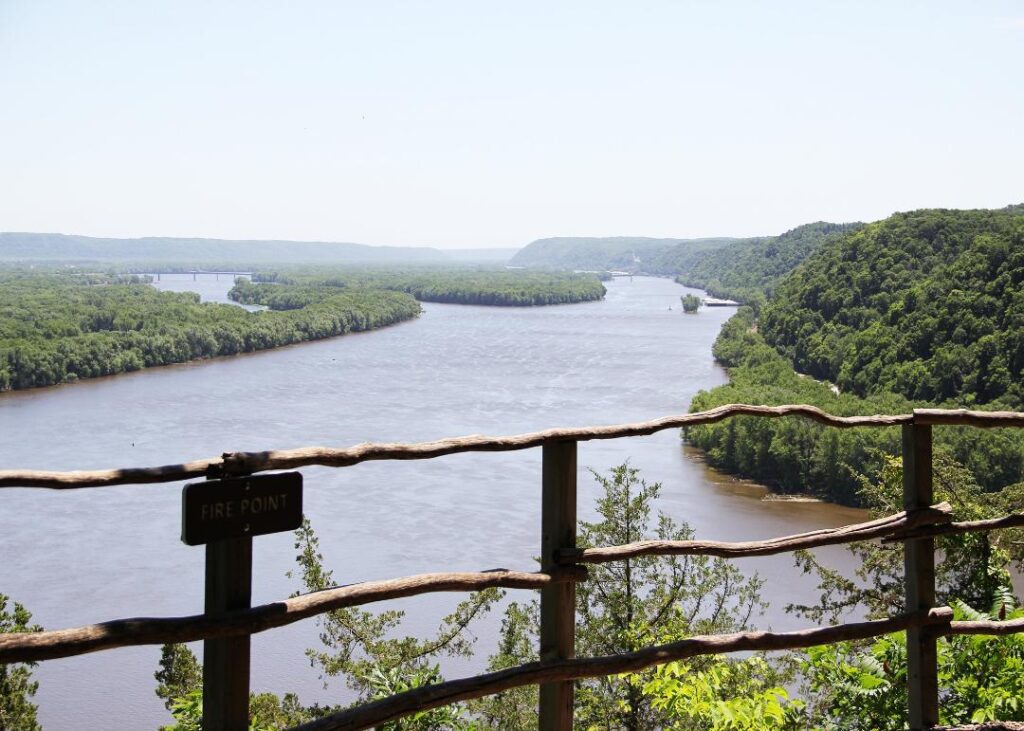 Effigy Mounds 
Effigy Mounds National Monument encompasses a spiritual, archeological, cultural, geological and historically significant site that has had great significance to the Native American people for thousands of years. The sacred places and spectacular burial mounds in this National Monument are primarily situated along the Mississippi River Bluffs. Today, the Monument has 20 culturally associated American Indian Tribes. A visitors center with interpretation, including a 3-D landscape sculpture of the Monument, is located along IA 76. This stop provides opportunities for visitors to access extensive views of the Driftless Area and the Upper Mississippi River Valley from designated overlooks and beautiful hiking trails. These bluffs and hiking trails provide a unique perspective of the landscape.
Location: 151 IA-76
Directions: Approximately 3 miles north of Marquette on State Highway 76.
Fees?: Day-use, No Fees
Dog Friendly?: Yes
Managed by: National Park Service
Phone: (563) 873-3491 x123 Visitor Center front desk
Website: https://www.nps.gov/efmo/planyourvisit/basicinfo.htm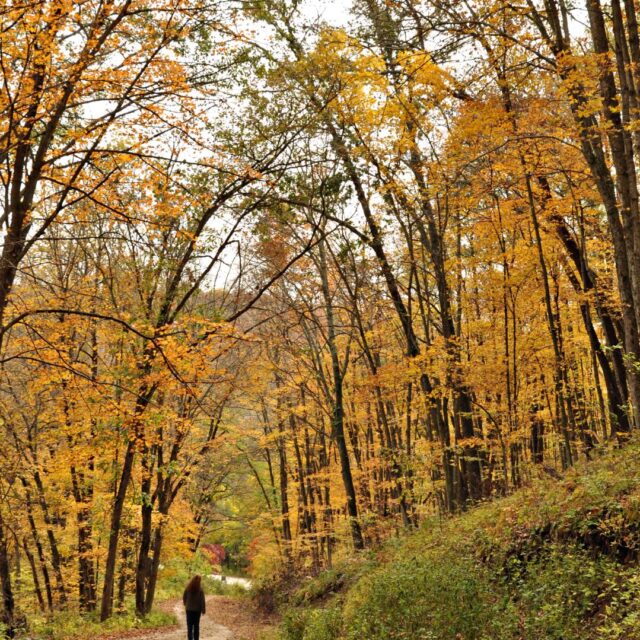 Bloody Run County Park
Located just west of Marquette, this park provides a chance to explore one of the deep narrow valleys in the heart of the Driftless Area not far from the Mississippi River. This 135-acre park is nestled between rolling limestone bluffs. The coldwater trout stream between these bluffs provides excellent trout fishing and the park also has camping opportunities. The campground is located along Bloody Run Trout Stream. Like many Driftless Area parks and forests, this park provides exceptional bird watching opportunities and is known for harboring Iowa's largest woodpecker, the Pileated.
Location: 29857 128th St, McGregor, IA 52157
Fees?: No Fee to visit, overnight camping fees apply
Dog Friendly?: Yes, but must be leashed.
Managed by: Clayton County Conservation Board
Email: cccb@claytoncountyia.gov
Phone:  563-245-1516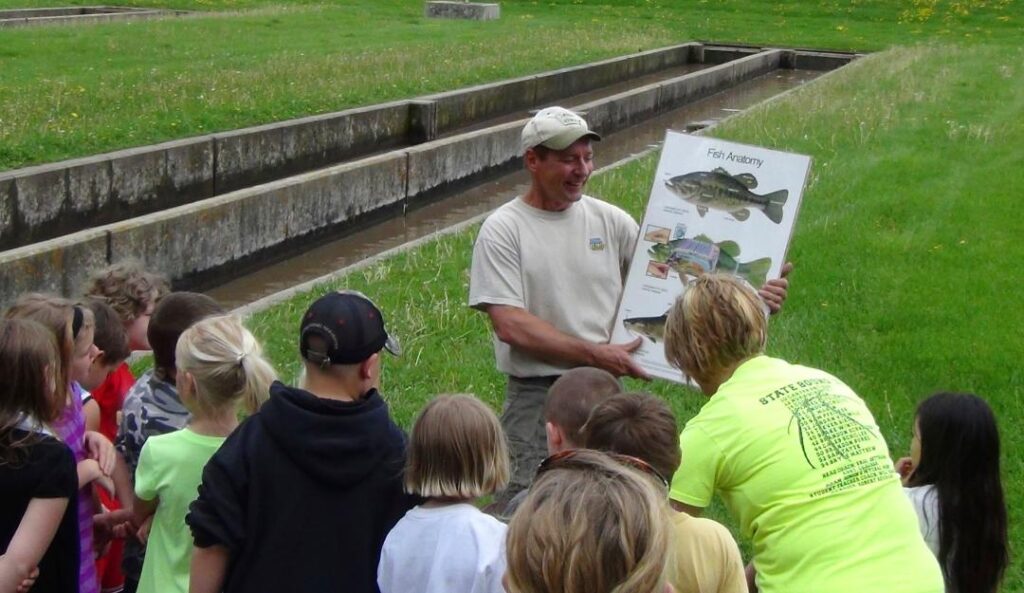 Big Spring Trout Hatchery
Big Spring Trout Hatchery is home to Iowa's largest cold water spring. Big Spring is one of the most well-known and studied sites in the nation when it comes to movement of groundwater in a karst (limestone) dominated landscape. The 66,000-acre Big Spring Watershed is a showcase for large sinkholes, losing streams, and a vast underground cave system that has yet to be fully discovered and explored. The large spring provides a near unlimited supply of cold 50-degree water for the hatchery, where each year more than 150,000 rainbow trout are raised and stocked in streams throughout the unique Driftless Region of Northeast Iowa. Groundwater flowing out from the spring usually ranges from 20,000 to 30,000 gallons per minute (GPM) can exceed 100,000 GPM. As part of your visit, self-guided educational kiosks will help you understand how land use in the watershed impacts water quality of the spring in a karst topography. The kiosks will also help you follow the path of the water from its origins in the watershed to where it emerges from the ground in two separate locations at the hatchery. That water then flows through 24 outdoor "raceways" where the trout are fed and grown to catchable size. At several locations you can also watch the spring water plunge into the Turkey River, which runs adjacent to the hatchery on it's journey to the Mississippi River and eventually all the way to the Atlantic Ocean in the Gulf of Mexico. During the spring, summer, and fall, you can visit nearby karst features such as large sinkholes or losing streams, watch fish being loaded for stocking, feed the fish, catch trout in the Turkey River or kids fishing ponds, paddle the river, or spend a truly wilderness quality night along the river at the nearby Big Spring Campground.
* What you need to fish for trout: Anglers 16 or older need to have a fishing license and trout privilege to fish for trout. Anglers younger than 16 can fish for trout if they are with a licensed adult or they can buy their own trout privilege if they want to keep their own daily limit of 5 trout.
* Hours: The fish hatchery is open to the public 365 days a year from sunrise to sunset. Group tours and inspiring school educational events can be scheduled by calling the hatchery at 563-245-2446. Office hours are 7:30 a.m. – 4:00 p.m.
Location: 16210 Big Spring Rd, Elkader, IA 52043
Directions: Take county road X16 (Gunder Road) north of Elkader past the golf course; go west on Big Spring Road.
Fees?: No Fee to visit, overnight camping fees apply
Dog Friendly?: Yes, but must be leashed.
Managed by: Iowa DNR Fisheries; Gary Siegwarth, Hatchery Manager
Email: bspring@alpinecom.net
Phone: 563-245-2446
Website:  https://www.iowadnr.gov/About-DNR/DNR-Staff-Offices/Fish-Hatcheries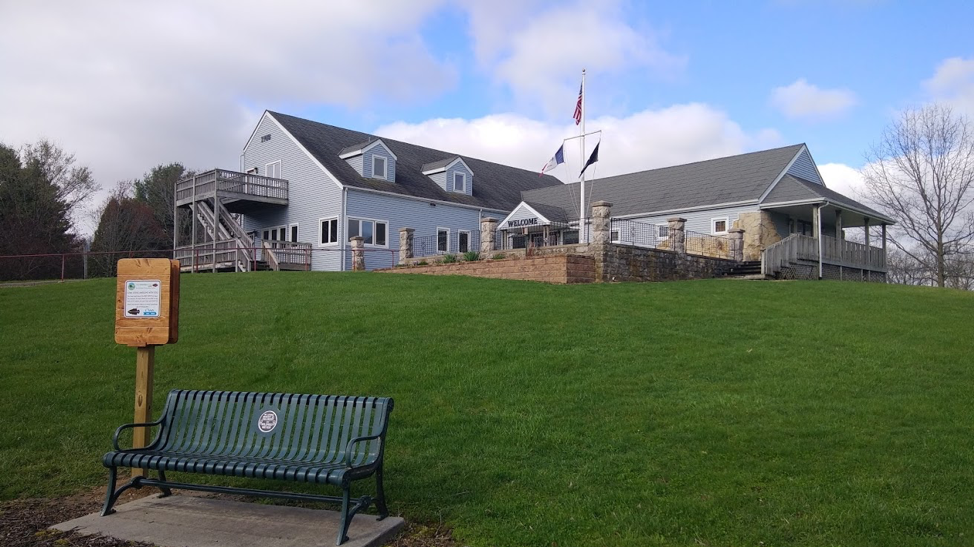 Osborne Nature Center and Iowa Welcome Center
The Osborne Nature Center is an Iowa Welcome Center located along the Volga River. The park has 300 acres of public land in the hills and valleys of the Driftless Area. It also has a native wildlife exhibit that showcases mammals and raptors, including some extirpated species, that favor the limestone bluffs and hardwood forests of the Driftless Area. It is one of the few places with educational information about the unique Algific Talus Slopes found in the Driftless Area. The Osborne Nature Center and Welcome Center has local and regional travel information, public restrooms, and locally made nature gifts, as well as mounted animal displays, live snakes, turtles and amphibians typical of the Driftless Area. An outdoor Animal Exhibit encloses five acres of pine forest and includes a black bear, birds of prey, wolves, coyote, deer, fox, cougar, bobcat and turkey. The animal exhibit is open from 10:00 AM till dusk, April thru October; off-season hours are 10:00 AM till 4:00 PM. The Arboretum includes nearly 50 trees, many of them native to Iowa. Each tree has a description explaining its life requirements, where it can grow, and interesting facts about the tree. The Pioneer Village offers a trip back in time. Visitors can explore the depot, general store, blacksmith shop, log cabin, and schoolhouse. During summer hours, you may step inside these buildings and learn more, especially when the village is the setting for Osborne's Annual Heritage Days held the second full weekend of October each year. A time when many local volunteers participate in bringing the town back to life with demonstrations and activities.
The surrounding park boasts several hiking trail options in a spectacular natural forest setting. The Nature Trail gives visitors a chance to explore the woods with a self-guided trail brochure. Learn about the woodland flowers, birds and trees interactively. The Conifer Trail leads through the pine forest with a self-guided brochure found at the trailhead. Visitors will learn about the forest and how to identify conifer trees. The Exercise Trail is a self-guided fitness trail, which is one and a half miles long and has 20 exercise stations. The trail takes you through the pines on a route that intertwines the Conifer Trail.
Location: 29862 Osborne Road, Elkader, IA 52043
Directions: 5 miles south of Elkader off State highway 13: 14 miles north of Strawberry Point off State Highway 13.
Fees?: No Fee to visit, overnight camping fees apply
Dog Friendly?: Yes, but must be leashed.
Managed by: Clayton County Conservation Board
Email: cccb@claytoncountyia.gov
Phone: 563-245-1516
Website: www.claytoncountyconservation.org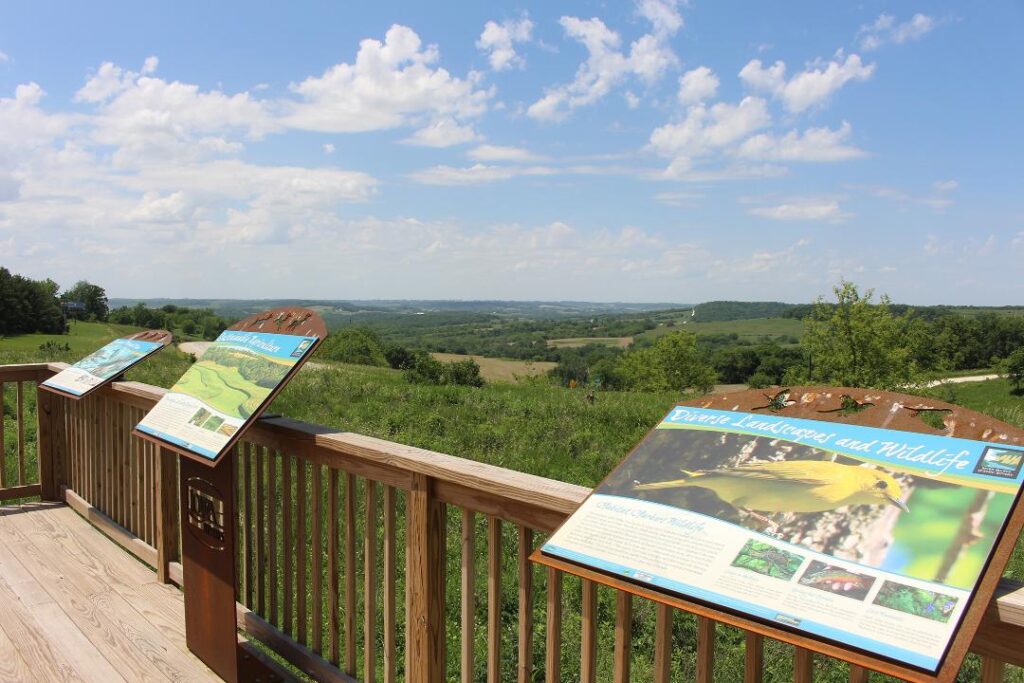 Chicken Ridge Scenic Overlook
A literal highpoint of the River Bluffs Scenic Byway in Clayton County along Highway 13, this overlook offers views of the rolling hills and valleys of the Driftless Area. It is a great picnic spot for byway travelers. A wooden platform provides additional elevation and offers interpretation of the prehistoric past, modern farm uses, and local fauna and flora. The site is named for the prairie chicken, recently rediscovered on an adjacent road known as Chicken Ridge. Native prairie has also been restored at the site. The views from this overlook and the associated stretch of the River Bluffs Scenic Byway are particularly stunning in the summer when the many greens of the Driftless landscape's grasslands, forests, and prairies are vibrant, which is why the valley to the left (as you are standing on the viewing platform) is known locally as the Emerald Valley.
Location: Near intersection of Highway 13 and Evergreen Road 
Directions: Four miles south of Elkader just off of Highway 13, on Evergreen Road, near the radio tower.
Fees?: No Fee, donations welcome!
Dog Friendly?: Yes, but must be leashed.
Managed by: Clayton County Conservation Board
Email: cccb@claytoncountyia.gov
Phone: 563-245-1516
Website: www.motormill.org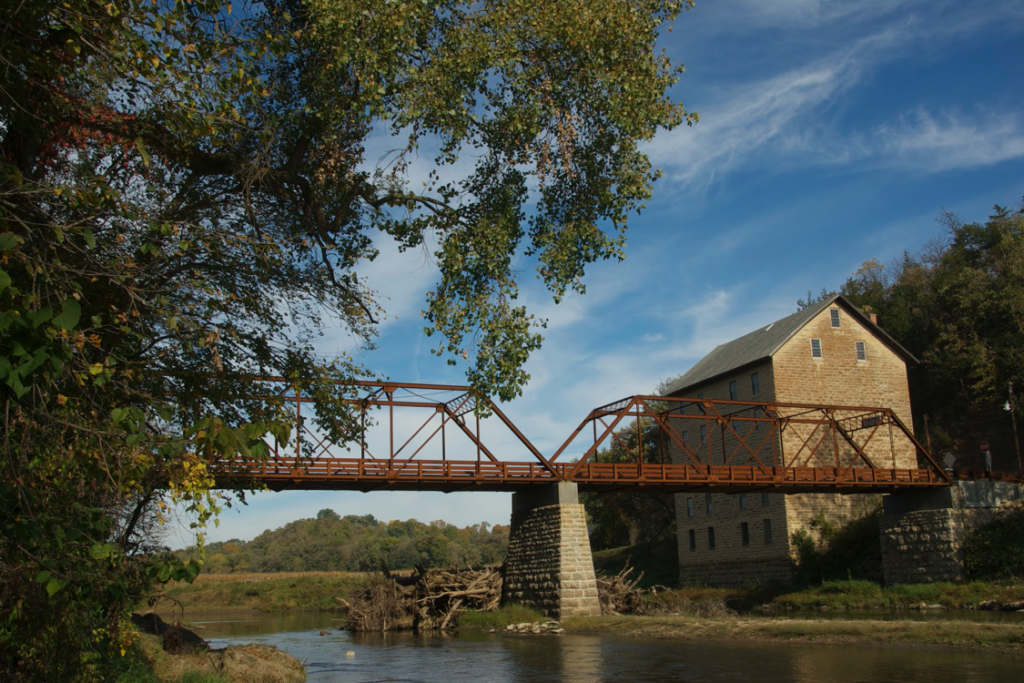 Motor Mill Historic District
The 155 acre Motor Mill Historic District was listed on the National Registry of Historic Places in 1977. It includes six limestone structures constructed in the late 1860s. The most prominent and majestic is the six-story grist mill towering over the Turkey River. It is featured on the National Register of Historic Places for its locally sourced limestone and hardwood constructed buildings; the imposing mill, a cooperage for making the barrels to package flour, an inn where farmers could stay overnight, a stable to shelter the horses of travelers, and an icehouse/smokehouse to preserve food. This site is also named as an Iowa Great Place. In its totality, it encompasses a reconstructed historic bridge over the Turkey River, restored hiking trails on each side of the Turkey River, a canoe ramp, campground, picnic area, a reclaimed native oak savanna, and 45 acres of reconstructed prairie. Like many limestone structures in the Driftless Area, these were built with local limestone that was mined from nearby bluffs. The District is a testament to early European settlement of the Driftless Area and Iowa's agricultural industry while at the same time providing a glimpse of how the limestone in the Driftless Area, the native woodlands and savannas, and even the rivers, provided the resources for settlement. This site is well interpreted. It tells the story of the structures themselves and of historic wheat mills, agriculture, stone masonry and natural resources.
Location: 28518 Galaxy Road, Elkader, IA 52043
Directions: From Elkader, travel south 2 miles on highway 13, then turn east onto Grandview Road and continue for 5 miles. Turn left onto Hazel Rd and immediately turn left onto Galaxy Road. Continue for 1.5 miles until you reach the Motor Mill Bridge crossing the Turkey River. You have arrived!
Fees?: No Fee, donations welcome!
Dog Friendly?: Yes, but must be leashed.
Managed by: Clayton County Conservation Board
Email: cccb@claytoncountyia.gov
Phone: 563-245-1516
Website: www.motormill.org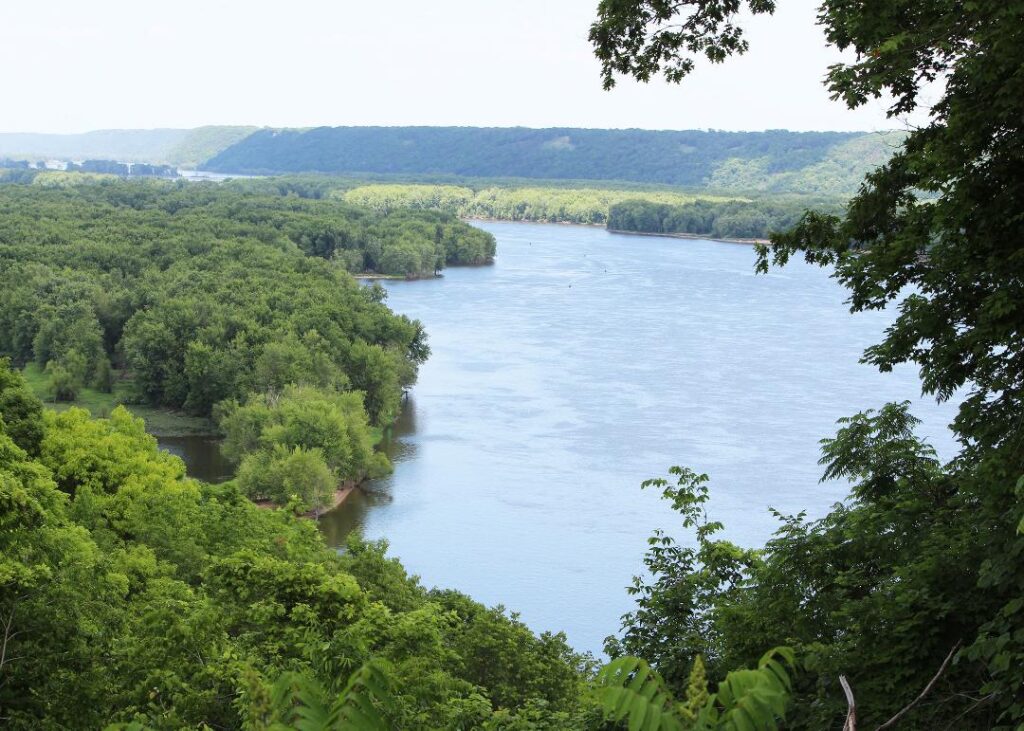 Guttenberg South & North Overlooks
The Mississippi River Community of Guttenberg is nestled between this mighty river and the limestone bluffs on the Iowa side of the river. As you approach the community either from the north or south via Highway 52, you have an opportunity to pull over and experience two breathtaking views at strategically positioned overlooks. Although the viewsheds are different at each, they both provide unparalleled views of the Mississippi River, its backwaters and islands, the limestone bluffs, and the hardwood forests that line the river. These overlooks are prime locations for photography and also great places to get an expansive perspective of the heart of the Driftless Area. 
Location: 323 South River Park Drive, Guttenberg, IA 52052
Directions: Along Highway 52 just north and/or south of Guttenberg, Iowa
Fees?: No Fee
Dog Friendly?: Yes, but must be leashed.
Managed by:  Iowa DOT
Email: Guttenberg@alpinecom.net
Phone: 563-252-2323
Website:  http://www.guttenbergiowa.net/blog/guttenbergs-top-10
Big Springs Guttenberg
Big Springs Nature Park is located on the northern edge of Guttenberg along the Great River Road National Scenic Byway. This is a quiet, hidden natural area with a picnic shelter that has been historically used as a recreation and picnic area. The coldwater stream that originates on the property cascades down a series of limestone bedrock features, creating a natural stair step effect. The water's total vertical drop within the 11 acre parcel is over 100 feet. You can take a short and easy hike from the parking area along the stream/waterfall on a primitive trail. If you are adventurous, you can go off-trail and follow the valley through interesting rock formations.
Location: County Road X56
Directions: Turn east off Highway 52 onto Haydn Street in Guttenberg. Take the first left onto N 5th Street. Go a couple blocks until the road Ts, then turn left onto County Road X56, which is also the Great River Road. In less than a mile you will come to the Park on the left.
Fees?: No Fee, donations welcome!
Dog Friendly?: Yes, but must be leashed. 
Managed by: Guttenberg Chamber of Commerce
Email: Guttenberg@alpinecom.net
Phone: 563-252-2323
Website: http://www.guttenbergiowa.net/blog/guttenbergs-top-10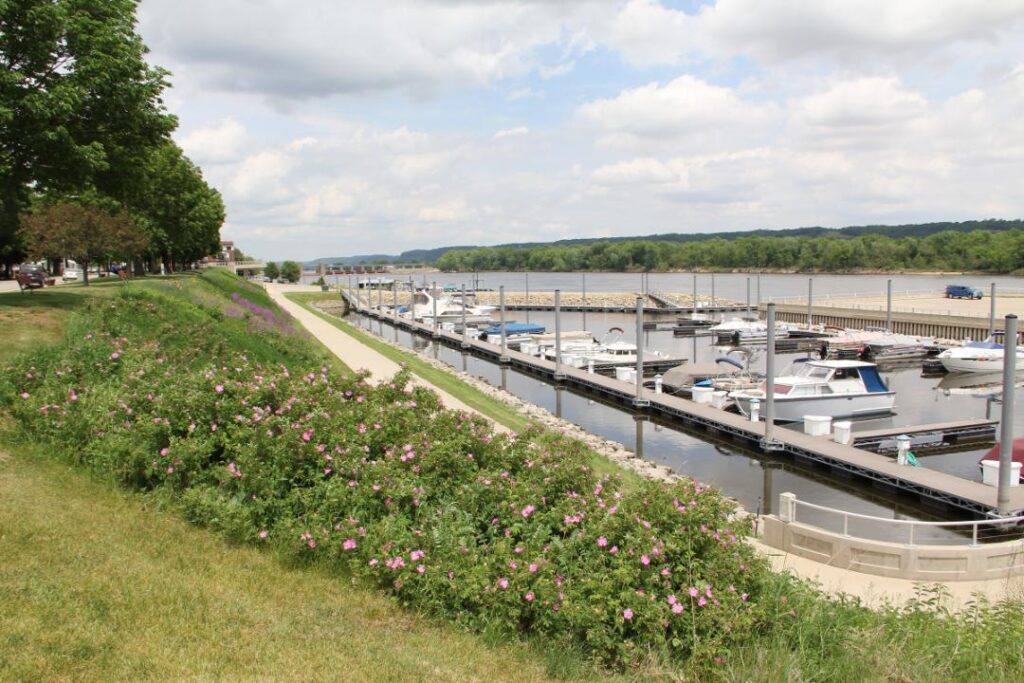 Guttenberg Marina
Visitors enjoying the Driftless Area from a boat on the Upper Mississippi River can dock in Guttenberg at the Guttenberg Marina, which is located adjacent to Guttenberg's downtown shopping district. The marina has seasonal and transient slips available and Riverside Park runs the length of the community along the river adjacent to the Marina. This marina is also close to Lock & Dam #10, an Iowa DNR Visitors Center/Aquarium, the Guttenberg Visitors Center/Chamber of Commerce, dining and in-season a Farmers Market. Available slips include 30, 32, and 40 foot as well as personal watercraft slips. The Marina has water, sewer pump-out, Wi-Fi access & showers at the Marina Center. Dock boxes are available for seasonal slip holders and electricity is available for a monthly fee. Transient slips are available by reservation. Visitors traveling the River Bluffs Scenic Byway or Great River Road Scenic Byway can enjoy a day on the river by parking at and walking around the marina, exploring the historic downtown, walking the trails that parallel the river, enjoying the city parks, the Iowa DNR universal access fishing, or the Fish and Wildlife natural areas surrounding the marina. Riverside park and paved path that run nearly the entire length of Guttenberg along the Mississippi River, starting at the Marina on the south end of town and extending to Bussey Lake on the north end of town. Keep an eye out for bald eagles, Canadian geese, pelicans, and many other species.
City of Guttenberg Courtesy Slips: The City of Guttenberg provides seven (7) courtesy slips to transient boaters for a fee of $20.00 per night. These slips are located just north of the Municipal Marina and available at a first-come-first-serve basis. These slips do not have water or electricity. Reservation slips are available in the Marina building and at the Kiosk by the Marina or by completing an online form.
Reservations: Requests can be submitted through Dockwa or by calling the City Office at 563-252-1161 Monday 8:30 am – 5:00 pm. Tues. thru Fri. 7:30 am – 4:00 pm. After hours call 563-252-2563 or 563-880-7338 for information and assistance. Check-in/Check -out time is noon.
Fees?: All reservations are 100% payable in advance and non-transferable. Reservations are not confirmed until payment is received. Payment accepted by credit card or e-check through Payport or by check to: City of Guttenberg, 502 S 1st St., PO BOX 580, Guttenberg IA 52052. Cancellations: 75% refund for cancellations made 7 days or more; 50% for 3 days or more; and no refund for less than 3 days.
Dog Friendly?: Yes, but must be leashed.
Managed by: City of Guttenberg
Email: Guttenberg@alpinecom.net
Phone: 563-252-1161
Website: http://cityofguttenbergia.gov/index.asp?SEC=A1C5E265-81D9-4436-B588-9223150A188D
http://cityofguttenbergia.gov/vertical/sites/%7B0E02710E-67AE-467D-88F3-79488A6A0CBF%7D/uploads/marina_layout_2019.pdf