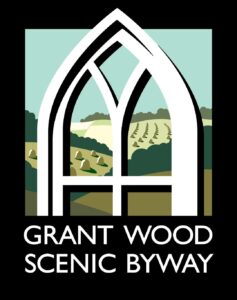 Grant Wood Scenic Byway
Travelers along the Grant Wood Scenic Byway experience people, places, and panoramas very similar to those that inspired American painter Grant Wood to create his most iconic art work. When he was asked to describe how the area he grew up in shaped his work, Grant Wood said "… I'd been told that the Midwest was flat and ugly and I believed it. Later, after I realized the material around me was paintable and started painting out of my own experience, my work had an emotional quality that was totally lacking before." Visitors traveling along the GWSB have an opportunity to experience some of the same emotions that inspired Grant Wood. A historic quarry and the community of Stone City, Iowa are located at the most western point of the GWSB. Stone City was made famous in Grant Wood's paintings of the town by the same name, by the Art Colony Grant Wood started there, and by the limestone quarries that have shaped the city's appearance and economy. The mid-point of the byway is the city of Maquoketa, where the byway branches to create a loop to the north that provides access to several state, county, and municipal parks, most notably the arching limestone caves of Maquoketa Caves State Park. After seventy-five miles, the byway reaches its eastern most point at the Mississippi River in the city of Bellevue. Bellevue is an all- encompassing east end to the byway, as it offers parks with grandiose views of the Mississippi River and its valley.
Any fees?: No; it's free!
Dog Friendly?: Yes (must be leashed)
Managed by: Grant Wood Crossing Scenic Byway Coordinator; Northeast Iowa RC&D
Email: admin@northeastiowracd.org
Phone: 563-864-7112
Website: https://www.traveliowa.com/trails/grant-wood-scenic-byway/5/
Pictured Rocks County Park
The Indian Bluffs & Pictured Rocks WMA are two adjoining forested areas that collectively encompass over 1,550 acres along the Maquoketa River. They, along with the privately owned Indian Bluffs State Preserve, are included in a designated Iowa Bird Conservation Area (BCA) that was publicly dedicated in 2017. This has been called one of eastern Iowa's most species-rich grassland/savanna/forest habitats, with 243 species of birds identified so far and more expected to be identified in the coming years. The State of Iowa BCA designation recognizes that this area provides important nesting habitat for declining grassland, savanna and forest birds. In addition to the prairie, savanna and interior forest, there is an Algific Talus Slope, which has a fragile micro habitat that harbors delicate threatened and endangered species. There are also primitive river campsites that users can use for up to fourteen consecutive days. Non-maintained, primitive trails near through the forest, prairie and savanna pass or parallel small creeks and along the river. They are graced by ferns, wildflowers, mature forests, limestone bluffs, and giant boulders. Byway travelers have access to adventure activities in these areas including some of the best and most popular rock climbing in the Midwest in Pictured Rocks, especially during fall and spring weekends when the University of Iowa offers classes on Sundays. Byway travelers can enjoy climbing among the trees, which shade most of the climbing walls. Over a dozen different climbs including Windy Point, Chicago Wall, Comic Gallery, Ice Cave Wall, Wild Iowa Wall, and Razorblade Boulder, provide the adventure tourists with several different options. This area also has primitive restrooms and a picnic shelter so byway travelers and their families can spend the day experiencing the limestone bluffs they only see from other locations along the GWSB. Although rock climbing has been occurring at Pictured Rocks for over 30 years, early on it was an unknown, unregulated sport. Today three organizations work together to maintain climbing routes, bolts and fixed hardware and plan for development of new climbing walls and routes, creating opportunities for the GWSB travelers to have an unforgettable experience. You can enjoy a wide variety of caves, but the biggest and most well-known is the Indian Bluff Cave, which at about 800 feet, is only allowed entrance with a permit.
Any fees?: No Fee to visit
Dog Friendly?: Yes (must be leashed)
Managed by: Iowa DNR; Jones County Conservation Office
Email: brad.mormann@jonescountyiowa.gov
Phone: (563)487-5038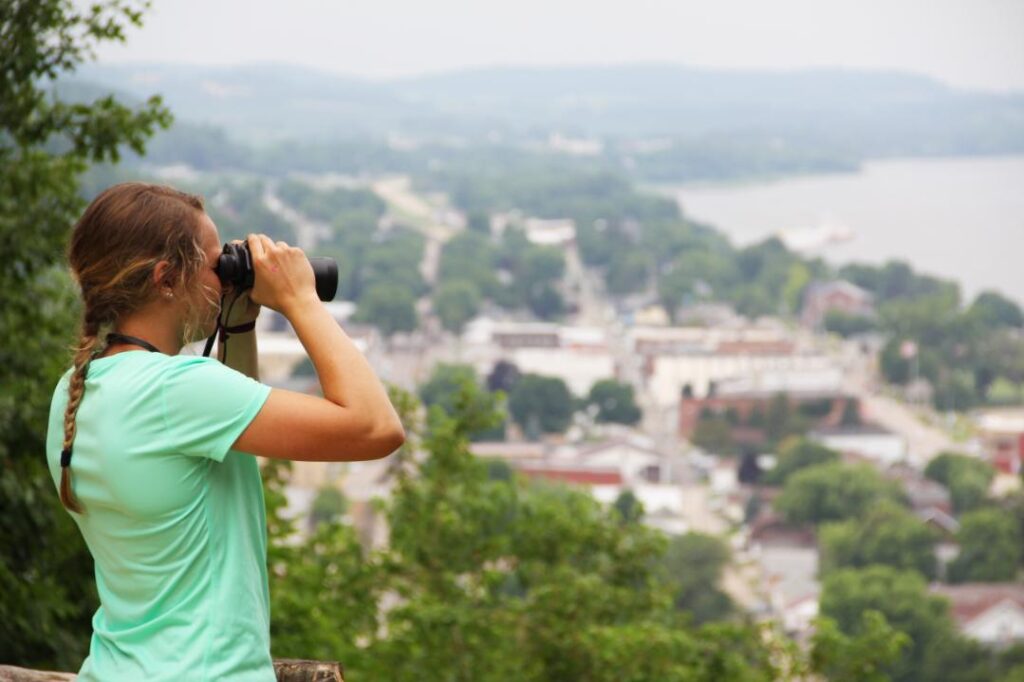 Bellevue State Park Overlook
High bluffs with scenic views of the Mississippi River, 770 acres with timbered walking trails, a unique butterfly sanctuary, and an enclosed nature center are just some of the features that make Bellevue State Park so special. Located just south of the picturesque town of Bellevue, this park offers spectacular views of the Upper Mississippi Fish and Wildlife Refuge and the river itself. Bellevue State Park lies in two separate tracts. The Nelson Unit is at the immediate south edge of Bellevue on U.S. 52, atop a 300-foot limestone bluff. The Dyas Unit is two miles further south on U.S. 52. In the Nelson Unit, three trails offer a glimpse of something different, including scenic views of the Mississippi, access to a restored prairie and butterfly garden, and a view of a former limestone quarry with a primitive limestone kiln. The "Butterfly Garden" contains over one hundred separate plots, each
featuring plants which provide food and habitat for butterflies. A network of pathways allows visitors to walk through the garden and see a wide variety of butterflies, a beautiful array of flowers and the pond in the center. The Dyas Unit encompasses almost six miles of foot trails with scenic overlooks, a stream, wildlife, and spring woodland wildflowers including Wild Ginger, Jack-in-the-Pulpit, Wild Columbine, Hepatica, May Apple, Bloodroot, & Dutchman's Breeches. Bald eagles concentrate to feed near the open waters below Lock and Dam 12 when other food sources are scarce. Pileated woodpeckers are occasionally seen in isolated areas. The Dyas Unit has 46 camping units (31 with electrical hookups), modern restrooms, showers and a sanitary dumping station. The Nelson Unit has open picnic shelters and a lodge. The South Bluff Nature Center in the Nelson Unit contains a variety of interesting displays on the plants, animals and geology of Bellevue State Park and hosts periodic interpretive programs.
Location: Dyas Unit Camping, 21466 429th Ave, Bellevue, IA 52031 / Office (Nelson Unit), 24668 Hwy. 52, Bellevue, IA 52031
Any fees?: No Fee to visit, overnight camping fees apply
Dog Friendly?: Yes, but must be leashed.
Managed by: Iowa DNR
Email: Bellevue@dnr.iowa.gov
Phone: 563-872-4019
Website: https://www.iowadnr.gov/Places-to-Go/State-Parks/Iowa-State-Parks/Bellevue-State-Park
Wapsipinicon State Park
Wapsipinicon State Park, dedicated in 1923, was one of Iowa's first state parks. It lies just south of Anamosa on the Wapsipinicon River. Boating, canoeing, kayaking, and tubing along the Wapsipinicon are popular during the summer. The sandstone and limestone bluffs in the 394-acre park create visual interest and define the experience for many visitors. The multi-use trails are open year round to hiking, cross country skiing, and snowmobiling. Rocky staircases, crevices and caves make this park a unique adventure for byway travelers. Horse Thief Cave is tied to a legend of the two horse thieves who used the cave for their camp while stealing horses. Fishing is popular in the park, as the Wapsipinicon River has long been famous for its channel and flathead catfish, spring crappies, bullheads and smallmouth bass, especially below the dam near the park entrance. Hunting is allowed in season. The park also offers winter activities including hiking, snowmobiling, cross country skiing, and fishing. The park is also famous for its unique and historic bridges including the Hale Bridge, built in 1879, which is the longest-standing bowstring arch bridge in Iowa. This park also has picnic shelters, lodges with electricity, running water, kitchens, and bathrooms, 26 campsites (14 with electrical hookups), modern restrooms and showers, a boat launch and landing ramps, and a nine-hole golf course.
Location: 21301 Co Rd E34, Anamosa, IA 52205
Any fees?: No Fee to visit, overnight camping fees apply
Dog Friendly?: Yes, but must be leashed.
Managed by: Iowa DNR
Phone: (319) 462-2761