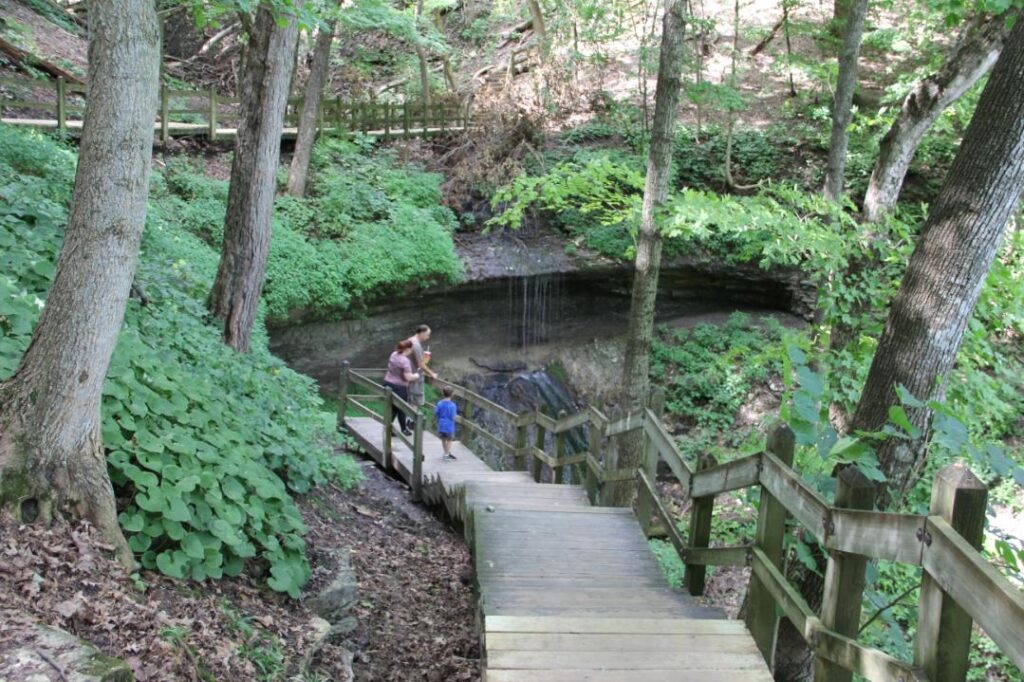 River Bluff Scenic Byway – Iowa
The River Bluffs Scenic Byway plays hide and seek with three rivers, crossing them at times, providing distant views of the river valleys at others. This byway starts and ends with a mesmerizing three-state view of the Mississippi River. Within its Corridor in Fayette and Clayton counties in Iowa, it boasts hidden springs, coldwater streams, bluffs, caves, and algific talus slopes. It also crosses the Silurian Escarpment, which forms the boundary between the landscape regions of the flatter Iowan Erosion Surface and the hilly Paleozoic Plateau/Driftless Area. The Silurian Escarpment is also called the Niagaran Escarpment, as it is associated with the same resistant rock layer that creates Niagara Falls! Picturesque examples of the Silurian Escarpment along the River Bluffs Scenic Byway can be found at Dutton's Cave County Park, Echo Valley State Park, Goeken Park and other places. The beauty of this region draws visitors to city, county and state parks, nature centers, fishing hotspots, valley and hilltop campgrounds, trails, and overlooks. There are 13 small towns along this rural byway route and more within the byway corridor. The extensive views from some of the highest bluffs and hilltops in Iowa combined with the quaint towns hidden in narrow valleys, inspired the nickname of Iowa's "Little Switzerland." Three of the small towns are tucked between the limestone bluffs and the Mississippi River, McGregor, Marquette and Guttenberg. They have a distinct character that only small river towns have as well as stories of how caves and blufftops were used by Native Americans and European settlers. Several stops along this 109-mile byway provide opportunities to enjoy karst features. There are private caves along the route, including Spook Cave, as well as public waterfalls like Bridal Veil Falls in Pikes Peak State Park. Several overlooks and pull outs, including the overlook at Chicken Ridge, provide a bird's eye view of the karst landscape and watersheds. In this area, there are dozens of historic sites and hundreds of stone features made of the limestone bedrock that is so close to the surface in the Driftless Area.
Managed by: Northeast Iowa Resource Conservation & Development
Website: https://www.traveliowa.com/trails/river-bluffs-scenic-byway/11/
Dutton's Cave Park
25243 Ironwood Rd. West Union, IA 52175
This beautiful 46-acre park features a mature forest with several karst features such as coldwater streams and a narrow cave opening. It is located on a geological landform known as the Silurian escarpment. This assemblage of rocks is nearly 400 Million years old. The Silurian escarpment divides the Iowa Surface and the Paleozoic plateau. Duttons Cave was once a more extensive larger cave system that developed during the interglacial period after the last glaciation of the driftless area some 500,000 years ago. As the nearby Turkey River cut through the bedrock, deeper valleys of the caves were developed, some of which collapsed to form valleys like Dutton's Cave. This park has trails, picnic areas, and a small campground with two electrical sites and several primitive sites. The cave is CLOSED to help protect bats from the spread of white-nose syndrome. Hunting is not allowed at this park.
Any fees?: No; it's free!
Dog Friendly?: Yes
Managed by: The Fayette County Conservation Board
More Info: www.fayettecountyconservation.org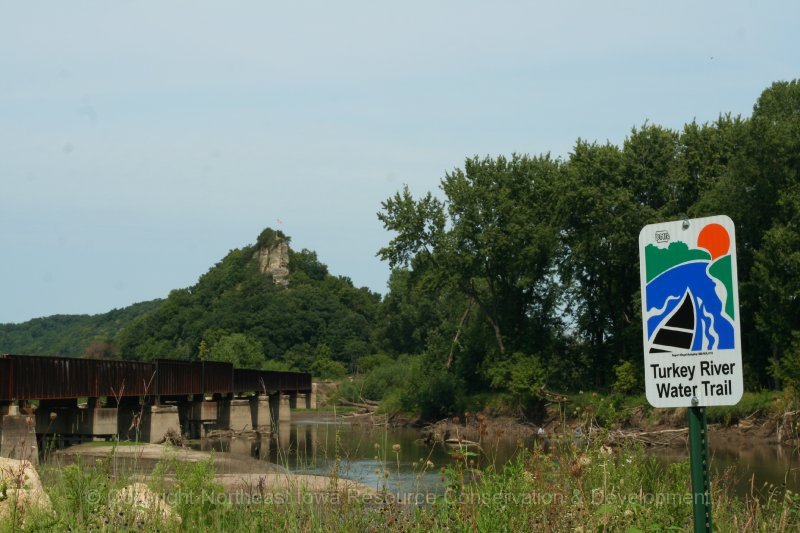 Turkey River Recreational Corridor
The Turkey River Recreational Corridor is unique in its geographic size and potential and is focused on a popular karst recreational river. Several coldwater streams flow into this river, including the stream formed by Big Springs, Iowa's largest spring and site of the Big Springs Iowa DNR Hatchery, which is located halfway between Elgin and Elkader along the river. The Corridor communities of Clermont, Elgin and Elkader in Fayette and Clayton Counties are nestled in the bluffs and valleys, and linked by the special, scenic and recreational beauty of the Turkey River, which is an Iowa Water Trail, as well as the various land trails that follow and cross the river. The combination of the beautiful karst landscape, frequent water access points and land trails make this Corridor a popular paddle-peddle destination where recreationists use their bikes, intertubes, kayaks and canoes to travel back and forth in their favorite sections. Visitors relish in the abundance of wooded hills, deep valleys,, streams and rivers, diverse wildlife and recreational opportunities. The Corridor has opportunities to explore whether you're walking, bicycle, horseback riding, fishing, camping or enjoying the water trail. In addition to these recreational opportunities, Clermont, Elgin and Elkader offer unique shopping and dining venues and various historic attractions. Two of the most notable historic opportunities are found at Gilbertson Conservation Education Area, which has multiple large historic collections, and Motor Mill Historic Park, which provides a dramatic evidence of how close the bedrock is to the surface in the Driftless Area and how that bedrock was used to construct impressive buildings.
Fees?: No Fee
Dog Friendly?: Yes
Managed by: Turkey River Recreational Corridor; Mallory Hanson, Director
Email: turkeyrivercorridor@gmail.com
Phone: 563-265-5248
Website: www.turkeyrivercorridor.com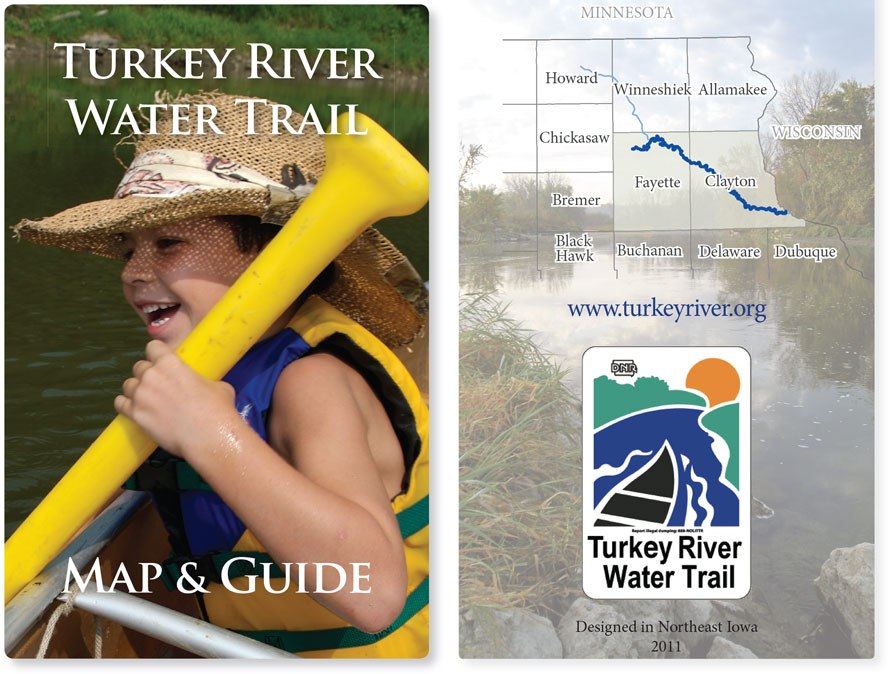 Fayette County Trout Streams
The coldwater springs and streams in the Driftless Area make trout fishing a popular pastime throughout the region. Each state manages their streams differently so check for information about limits, catch and release, and seasons within each state. Fayette County is home to 10 spring-fed creeks that comprise over 13 miles of fishable water. Located in the heart of Iowa's trout region, Fayette County's tranquil landscape is home to some of the most popular trout fishing destinations in Iowa. Anglers are attracted to this area for its high concentration of prime trout waters, fish counts, trout stocking plants and year-round opportunities to catch brook, brown and rainbow trout. Iowa DNR efforts have also contributed to making this region of the state a world-class trout fishery. On average, the Iowa DNR stocks approximately 31,000 catchable trout into catchable stocked streams within Fayette County from April 1 – October 31. Of the stocked catchable trout, approximately 83 percent are rainbows and 17 percent are brooks. The Iowa DNR also stocks over 13,000 fingerlings in streams with public-owned access. Public streams stocked with fingerlings in Fayette County include Brush Creek, Otter Creek and Glovers Creek. In addition, excess brood trout, or adult trout that typically measure between 14 and 24 inches in length and weigh anywhere from two to eight pounds, are released into streams each year. For more information about Iowa's stocking season, including a list of the streams that are scheduled for stocking, call the Decorah Fish Hatchery at 563-382-8324, stocking hotline at 563-927-5736 or visit the DNR website at www.iowadnr.gov.
Fees?: Day-use, No Fees, Fish License and Trout Stamp required for fishing
Dog Friendly?: Yes
Managed by: Iowa DNR Fisheries
Email: brian.malaise@dnr.iowa.gov
Phone: (563) 382-8324
Website: www.iowadnr.gov/Fishing/Where-to-Fish/Trout-Streams
https://northeastiowarcd.org/publications/
*For a pocket-sized guide to each of the 13 publicly accessible trout streams, please visit www.northeastiowarcd.org/product/trout-streams-of-fayette-county-fishing-guide/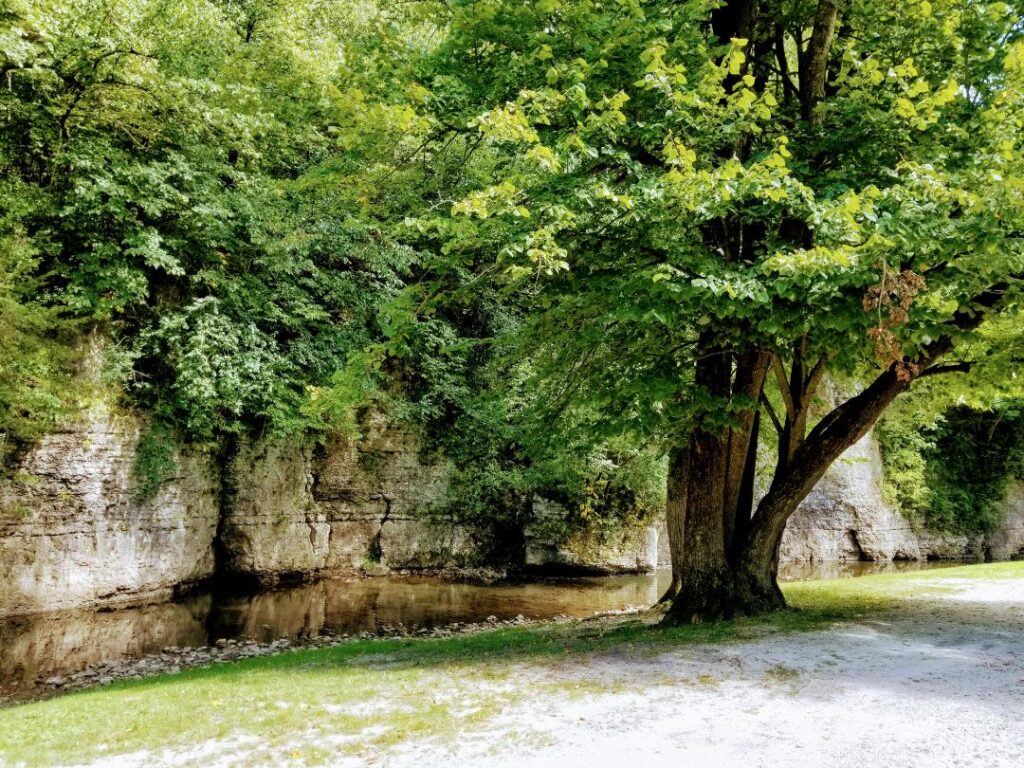 Goeken Park
This small 5-acre roadside park is known for its panoramic view of the Turkey River Valley and the picturesque town of Eldorado. This park has a scenic overlook with interpretation, one electrical hook up camp site, primitive camping, a pit toilet, play ground, two shelter houses, bird watching and winter snowshoeing. 
Directions: Five miles west of West Union, Iowa on Lincoln Road [Highway 150]
Fees?:  No Fee
Dog Friendly?: Yes
Managed by: The Fayette County Conservation Board; Rod Marlatt, Director
Email: fayettccb@hawkeyetel.com
Phone: 563-608-0243
Website: www.fayettecountyconservation.org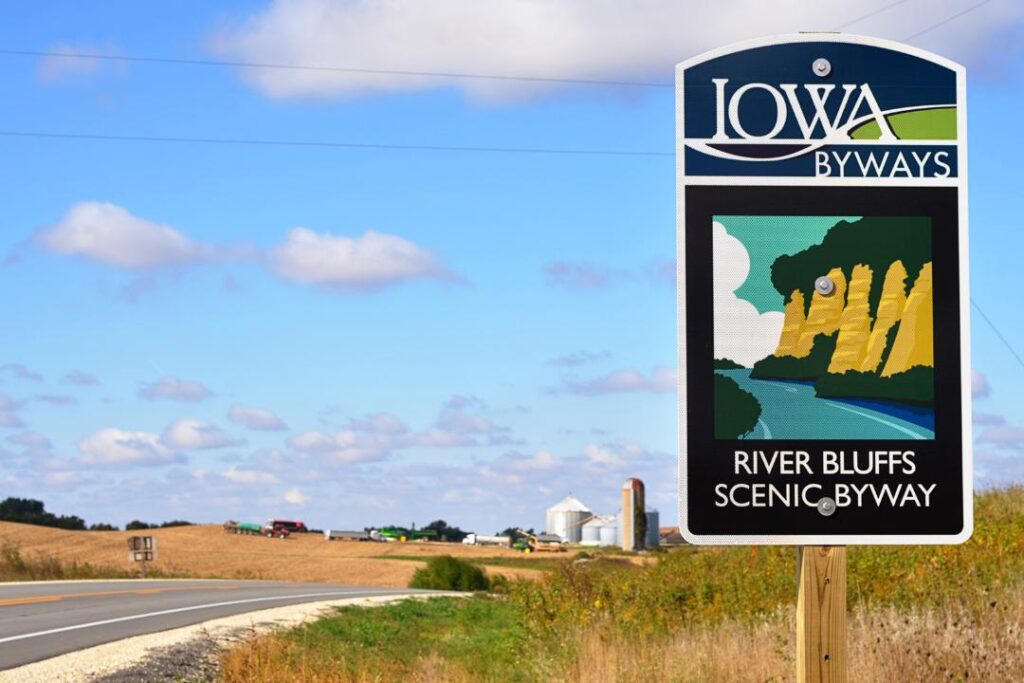 Gilbertson Conservation Education Area
This nearly 1,000 acre area is located along the Turkey River and is lined with streams, prairies, river bottoms, and limestone bluffs. The park has over nine miles of trails that are available for hikers, non-motorized bikes, horseback riders and cross-country skiers. 27 electrical sites, eight primitive sites, and seven walk in sites are available along with a playground, pavilion, sinks, showers, and flush toilets. The area also offers an interpretive center with a fishing pond, a nature playscape and petting zoo in the summer. The complex features the Mavis and Conner Dummermuth Historical Buildings that preserves farm and home antiques from the 1890's-1920's.
Fees?:  No Fee
Dog Friendly?: Yes
Managed by: The Fayette County Conservation Board; Rod Marlatt, Director
Email: fayettccb@hawkeyetel.com
Phone: 563-608-0243
Website: www.fayettecountyconservation.org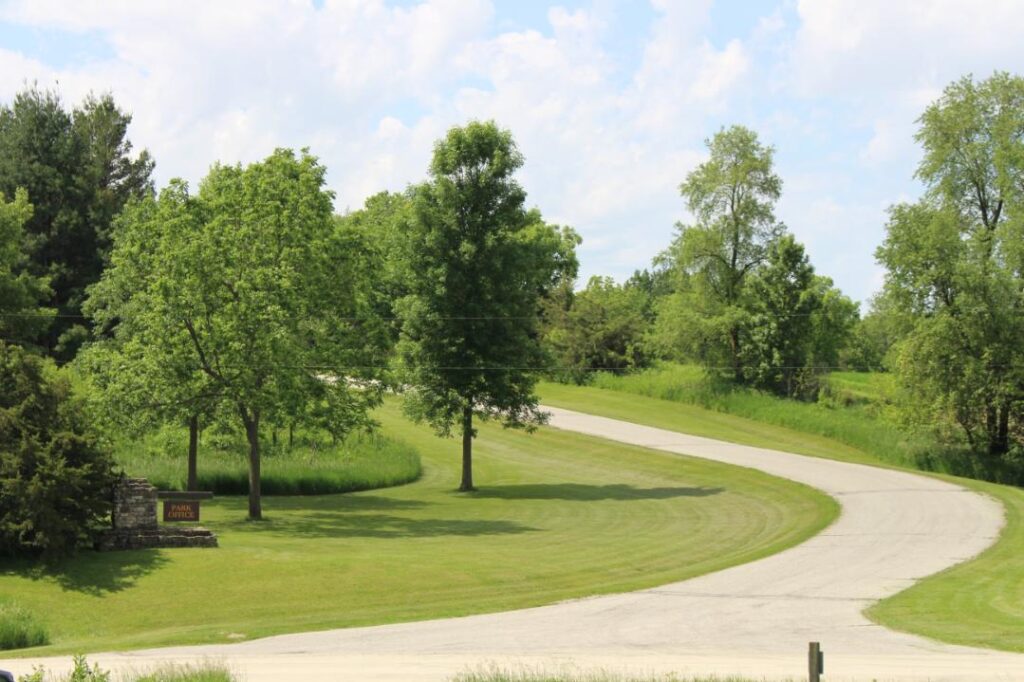 Volga River State Recreation Area
The Volga River State Recreation Area provides an opportunity to spend time exploring Northeast Iowa. Striking rock formations, prairie areas and natural woodlands characterize the 5,700-acre area. A variety of wildlife, including deer, red fox and beavers are often spotted in the park, which is open to public hunting during hunting season. There are more than 20 miles of multi-use trails groomed for equestrian riders, mountain bikers, snowmobilers and cross-country skiers in different seasons. Anglers enjoy fishing for bluegill, crappie, ringed perch, largemouth bass and more at Frog Hollow Lake. A floating fishing pier, shoreline sidewalk and fishing jetties are all universally accessible and provide great fishing access. Anglers can also fish in the Volga River, which meanders through the southern portion of the recreation area. The river contains channel catfish and bass, and float trips for kayaks and canoes are popular activities on the river. Kayaking and canoeing are popular activities in Frog Hollow Lake where a universally accessible, three-lane boat ramp is available. Any size boat motor can be operated at "no wake" speeds on the lake. Wildlife species including waterfowl, small game, wild turkey and whitetail deer are abundant in the region. Visitors can practice archery at the Don Avenson Archery range west of the scenic overlook. Lakeview Campground and Albany Campground provide camping options, including equestrian sites.
Location: 10225 Ivy Road, Fayette, Iowa 52142
Directions: Four miles south of Elkader just off of Highway 13, on Evergreen Road, near the radio tower.
Fees?: No Fee
Dog Friendly?: Yes, but must be leashed.
Managed by: Iowa DNR
Email: Volga_River@dnr.iowa.gov
Phone: 563-425-4161
Website: https://www.iowadnr.gov/Places-to-Go/State-Parks/Iowa-State-Parks/Volga-River-State-Recreation-Area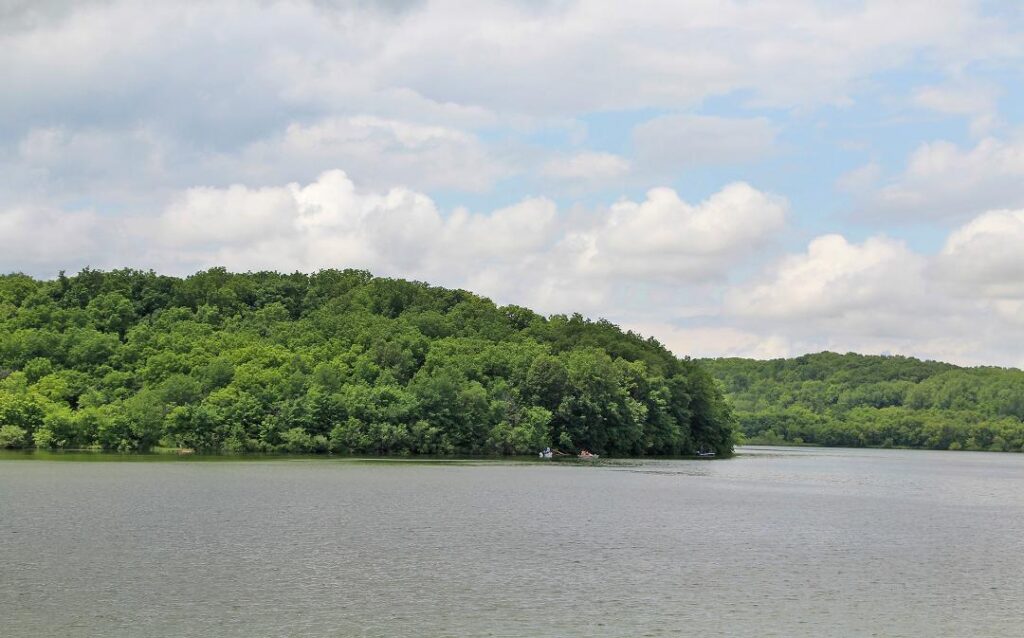 Volga River Water Trail
The Volga River, the largest tributary to the Turkey River, winds through Northeast Iowa beginning near the town of Maynard. This is a very rural river that only passes through very small communities. It passes through the small communities of Wadena, Volga, Littleport, and Garber before emptying into the Turkey River. It is known for its outstanding smallmouth bass fishing along most of its length and the forested limestone bluffs in the lower half of the river. The river has good velocity, dropping three feet in less than 1400 feet of distance in the town of Volga alone, making it a great tubing river. The Volga is also a good canoe and kayak river for most of the year, with put in and take out points along its length. Campgrounds located in several small towns along the Volga River, including the town of Volga, make the river a destination for adventurous explorers.
Fees?:  No Fee
Dog Friendly?: Yes
Managed by: Iowa DNR; City Campgrounds Managed by Communities
Email: volgacity@gmail.com
Website: https://paddling.com/paddle/trips/volga-river-iowa
http://www.volgacityiowa.com
https://www.youtube.com/watch?app=desktop&v=MTXNEtMz_Ak